Peoples Bank Announces New Web Site Listing, Promoting Georgia Foreclosed Properties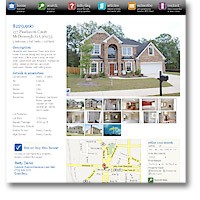 Instead of waiting for the government to issue a new "stimulus package," Peoples Bank is doing its part to give Georgia's economy a boost right now.
"We found ourselves with a growing number of foreclosed houses, commercial properties and lots, and at the same time more and more people inquiring as to whether or not we had any available for sale," said Ogden Persons. "We realized we needed to find a highly-effective approach to matching potential buyers to the real estate we own."
"Our goal was to develop a new Web site to promote these properties and make it easy for potential buyers or investors to see what's available. Of course it's good for us to sell these properties, but it also gives the local economy a shot in the arm."
Persons notes that while inventory can change quickly, "we typically have starter houses, large luxury homes, lots ready for construction and commercial buildings ready for business."
Peoples Bank worked with Atlanta's Jackson Spalding (JacksonSpalding.com) to design and develop a new site. "When I met with Peoples Bank, I was immediately impressed," says Tom Hinson, Jackson Spalding's lead Web developer. "They wanted the right solution, and they were willing to invest the time and energy to see it through. We built a custom content management system (CMS) to meet their needs exactly. Now, Peoples Bank has a site they can quickly and easily update to help sell their foreclosed real estate listings."
The new Web site, at GeorgiaBankOwnedProperties.com, lists available properties including homes, residential lots and commercial properties. The site includes a sophisticated search function, detailed information on each listed property, photos and maps. Some properties are listed with an agent or broker, and these listings provide direct contact information for the agent. "We value our relationships with the selling agents; the new site will benefit them as well," says Persons.
Importantly — and in opposition to a growing trend — GeorgiaBankOwnedProperties.com requires no fee or registration to search and view full details of the bank-owned properties. Peoples Bank believes their approach is innovative and will be a win-win for themselves and buyers looking to take advantage of today's unique opportunities in the Georgia real estate market. As Persons sees it, "there may never be a better time to buy real estate."